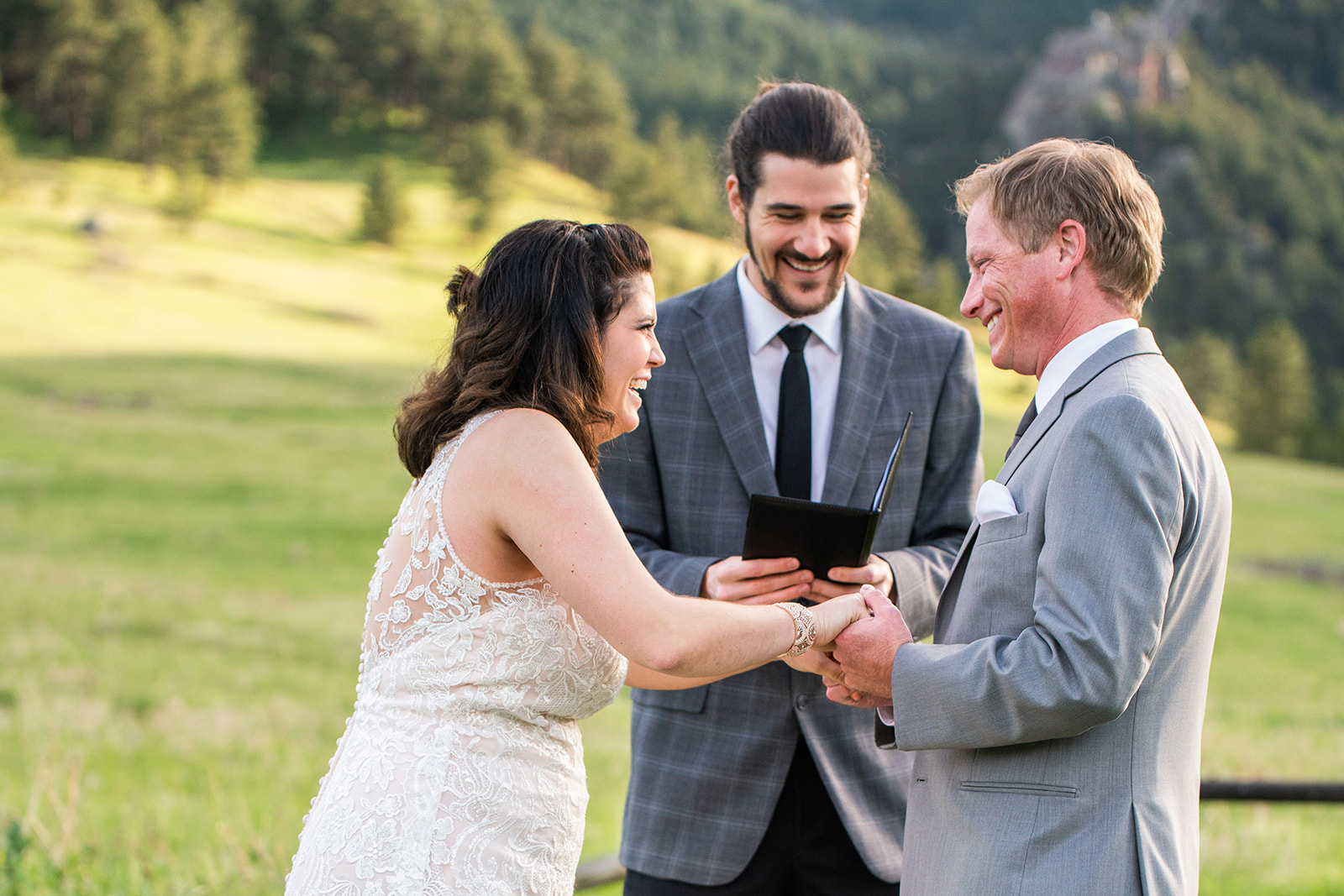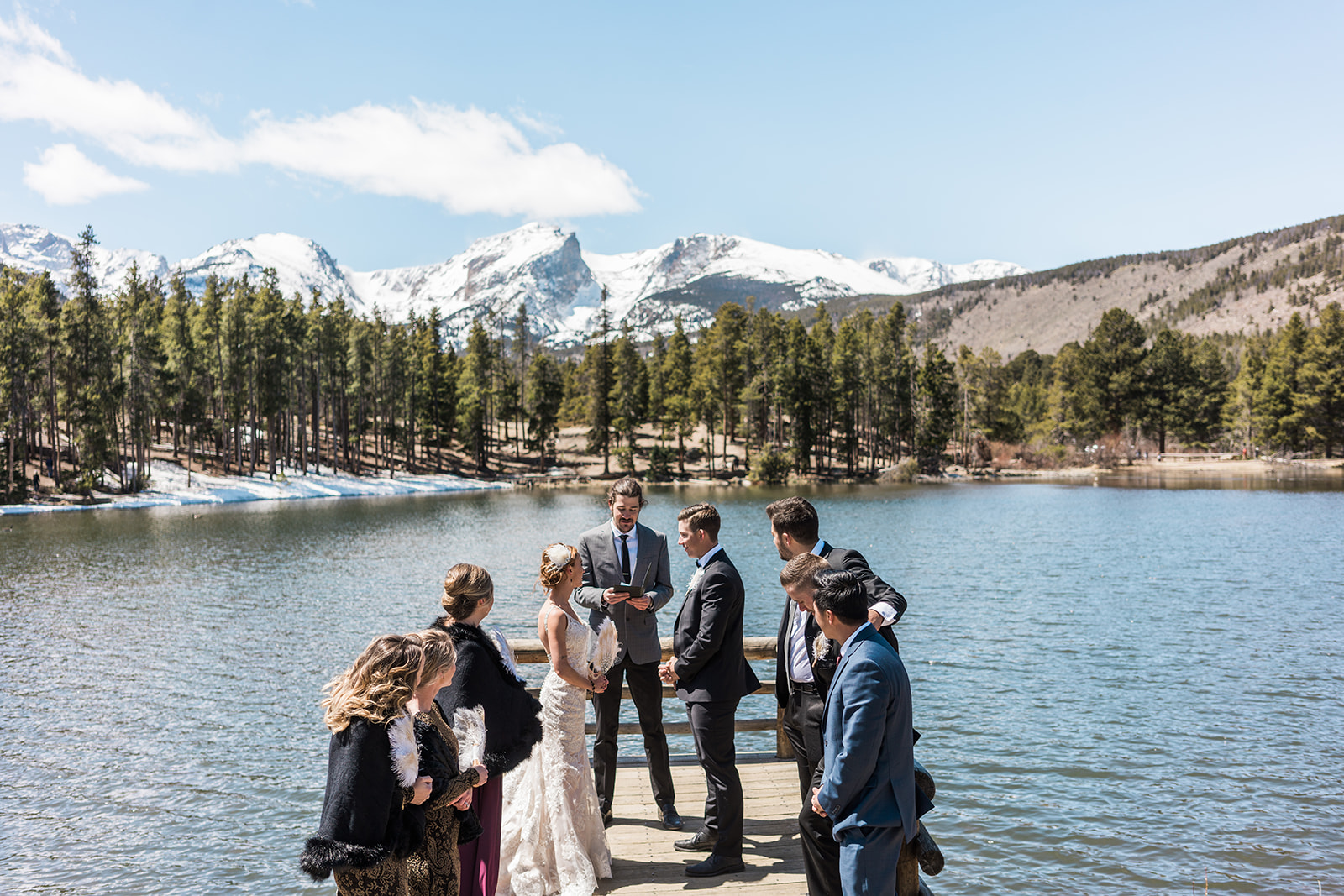 Iver Marjerison
Wedding Officiant
Wanna make your wedding easy?
Beyond my officiating services, I also work as a wedding planner, and offer everything-you-need packages for small weddings.
Click here to learn more!
Hey there!
My name's Iver Marjerison, and I am a professional wedding officiant, planner, and coordinator, who specializes in mountaintop elopements and small contemporary wedding ceremonies (what I like to call "Micro-Weddings").

My Experience
I've officiated over 300 weddings in the Colorado area of all shapes and sizes, ranging from mountaintops to cathedrals, and pride myself on my strong communication, ceremony personalization, always being flexible, and—making weddings stress-free!
What I Offer
As an officiant…
I provide everything you need from a wedding officiant! I create and perform a personalized ceremony based on your story, preferences, and style. I also assist with the marriage license, explaining the application process, filling out the document to meet legal requirements, and ensuring proper filing of certificate.
As a wedding planner…
I offer everything you need for your wedding! For locations, I've scouted the state for the best mountaintops, parks, and overlooks where you can have a beautiful wedding for free. If you're looking for something more formal, I've got a collection of the best small-wedding-friendly venues in the state. I've also got a team of rockstar vendors, and am happy to help coordinate everything you need for your wedding day—from the photography and the flowers, to the catering and the guitarist!
Location
I'm based in Denver, and most often work in the state of Colorado. With that being said, I'm legally accredited to solemnize marriages in any state, and have traveled around the country performing wedding ceremonies. If you have a spot in mind, I'll be there. If you need some suggestions… I can help with that too :)
I'm also open to "unique" wedding locations! From the back of an airplane, to the flamingo section at the zoo, I'm always down to help plan non-traditional weddings.
My Ceremonies
First thing to know is: I'm flexible.

This is your day! And I'm here to make it awesome. If you have something in mind, I'll make it happen. If you have no idea what you want, I'm happy to help brainstorm :)

From the basics, like the vows and the ring exchange, to additional elements, like a unity ceremony (whiskey blending, perhaps?). I've done a ton of weddings, and I have a ton of awesome, unique, and creative ceremony ideas.
I perform any style of ceremony, and never discriminate based on culture, traditions, or beliefs.
Most importantly…
My passion is making your day stress-free & awesome.
Call, text, or email …anytime!
(720) 598-2862
Iver@ColoradoMicroWeddings.com
Rates & Packages
All packages include full ceremony customization, vow writing assistance, and license filing.
I strive to offer top-quality service at a reasonable price. To be honest, this isn't my full-time job, I enjoy doing it, and—I know it's crazy!—but I don't think everything with the word "wedding" justifies an outrageous price tag. I'm always happy to work with couples who are working with a strict budget. I can help find free parks to use for the ceremony, and have a list of vendors (photographers, florist, etc.) who I can negotiate with to create affordable wedding packages to fit any budget.
"Elopement Special" - $160
Mon-Thurs, in the Denver area, just the Bride & Groom
"Just the Couple" - $200
No guests, limitations on some weekends and travels

"Intimate" - $300
Up to twenty guests
"Regular" - $400
More than twenty guests
"Your Story Ceremony" - $600
We work together to completely custom create your own "story telling" script. This is for couples who want to be very hands-on during the ceremony, with an emphasis on them reading their own words to each other. Want details? Just ask!

Travel
Estimated at $.50 per mile.
Free in the Denver area!
Breckenridge / Summit County $60
Colorado Springs $60
Boulder $30
Rocky Mountain National Park $80 - $100
Kelsey Vlamis
Wedding Photographer
This whole project started with Kelsey Vlamis and I teaming up to provide couples with unforgettable wedding experiences through our former company "Marry Colorado". As a professional writer and photographer, Kelsey offers the other half of your wedding day… the photos! If you're interested in hiring us together just let me know when you reach out.
More of Kelsey's work:
www.KelseyVlamis.com
Photography
Packages & Prices
All packages include photos of the ceremony, group and family shots, and a couple's portrait session. She provides a minimum of 75 edited images, full printing rights, and two week delivery
"Just the Couple" - $350
Just bride & groom - up to 1 hour
"Intimate" - $400
Bride & Groom, plus no more than 20 guests - up to 1 hour
"Regular" – $600
More than 20 guests, formal style ceremony - up to 1.5 hours
Full Day Packages - Starting at $1,900
Travel Rates - (Same as above)
Let's Chat!
Call, text, or email …anytime!
(720) 598-2862
Iver@ColoradoMicroWeddings.com

Or fill this thing out…